Length: Approximately 1.5 hours
1. King's Square
This is one of four squares included in the original town plan, drawn up by Paul Bedell in 1783. The site was cleared in 1844 and laid out in an 'X' pattern. The unique two-storey bandstand was donated by the City Cornet Band as a "Memorial to Edward VII, King Emperor 1901-1910."
2. County Court, King's Square
The courthouse was built in 1825 to plans by Saint John architect John Cunningham, who designed many prominent Saint John buildings of the period. Of special interest is the stone staircase, which spirals up three storeys without a central support. It is reputed that the government of the day would not pay for the work related to the staircase because it was unsafe. Cunningham gathered 49 men off the street and stood them on the stairs all at once. The stairs did not collapse and the bill was paid. The Court was still in use until late 2012. The Saint John Law Courts opened in early 2013, located at Peel Plaza.
3. Old Burial Ground, King Street East
This area was set aside as a public ground in the original Town plan drawn up by Paul Bedell in 1783. The oldest surviving stone dates to 1784 (Conradt Hendricks) and is located on the southern side of the graveyard near the southwest corner. In April 1848, the graveyard was closed to further burials by an Act of the Provincial Legislature.
4. Carson Flood House, 166 – 168 King Street East
In 1878, the year this house was built, its plans were featured in an issue of the "American Architect and Building News". The house was designed by architects Henry Clark and John Briggs. The first occupants, the Taylors and Dearborns, had the first letters of their respective family names carved above the doorways for posterity.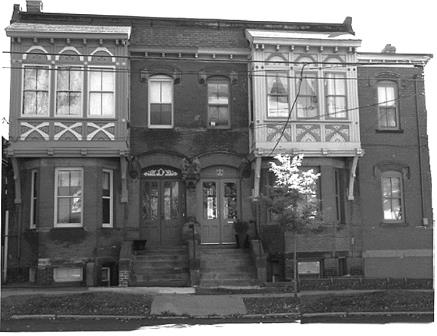 5. Peters House, 190 King Street East
William Peters built this home in 1877-78. He and his family owned the Peters Tannery which was  located a few blocks northeast. His father, C.H. Peters, built a large stone home right behind this building which is now the Saint John Jewish Historical Museum. Much of the interior of this home is still intact.
6. McAvity House, 192 – 196 King Street East
Looking at these two houses today, one would hardly believe they were built as a matched pair in 1878.
The homes were built for Thomas and his son Thomas Jr., of Thomas McAvity and Sons, brass  founders and hardware merchants. The firm was established in 1834 as a hardware and general merchandise company. In 1863, at the height of the wood shipbuilding industry in the city, the firm expanded and established a brass foundry to supply ship fixtures. The firm grew to international  renown for its fire hydrants.
7. Brass House, 167 King Street East
The elaborate masonry work at the front entrance of this home is a good example of decorative detailing creating a grand entrance to a home of otherwise clean, classic lines. The house was constructed in the Second Empire style in 1860 by contractor Edward Brass as his own home.
8. Erb House, 208 – 210 King Street East
This home was constructed in 1898 for Isaac Erb, a pre-eminent photographer who captured the very essence of Saint John between 1877 and 1924. While modest in external appearance, this house was, in its day, reputed to contain some very "classy pieces of furniture." It was converted to a two-family structure sometime after 1924.
9. Peters House, 218 King Street East
William Peters lived in two other homes on King Street East before building this home in 1885. Peters was an employee of his father's firm, C. H. Peters and Sons, commission merchants and leather manufactures. Note the faces carved above the front door and below the cornices.
10. Osgood House, 191 King Street East
The five-sided, bay window dormers on the roofline of this house are known as Scottish dormers and are very common on many of the 19th century homes in Saint John. This structure was constructed in the 1840's for Samuel P. Osgood, a stone cutter whose business on King Square South featured "all descriptions of head stones, monuments and marble mantel pieces."
11. 60 Pitt Street
This richly detailed, gaily decorated house predates the Great Fire of 1877. The ornate wood carving is typical of the high quality craftsmanship which was available from wood carvers who applied their  talents with equal skill to both ships and buildings.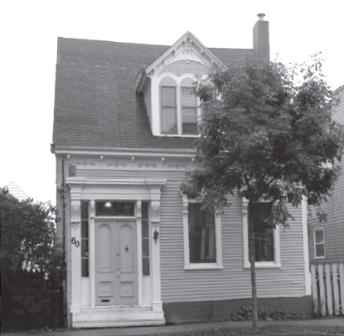 LEINSTER STREET
When one reaches the corner of Pitt and Leinster Streets, Courtney Bay is easily visible to the left. This street was named in honour of Lord Edward Fitzgerald, 2nd Duke of Leinster, an Irish aristocrat who apparently served at Fort Howe in 1784.
12. Wright House, 114 Leinster Street
This home was constructed in 1902 in the Queen Anne Revival for Hugh Wright, the manager of North American Life Insurance Company. While it has not lost its basic charm, modern siding was added in recent years and some of the finer details were removed.
13. Frink House, 112 Leinster Street
A rather delightful structure, this house is also of the Queen Anne Revival, built in 1904 for Walter Frink, the manager of the Western Assurance Company.
14. Barbour House, 105 Leinster Street
Two prominent Saint John businessmen have called this rather plain residence home. It was built in 1879 for William V. Barbour of Barbour Brothers, a merchant firm which has continued to thrive to the present day (Barbour's General Store). The home was later occupied by George McAvity, one of  Thomas McAvity's six sons, who went on to become president of T. McAvity & Sons between 1910 and 1933.
15. Hayward House, 103 Leinster Street
The Great Fire of 1877 destroyed William H. Hayward's home and business premises. In 1878 Hayward had this home constructed, and he was quick to rebuild his store, W. H. Hayward. The company continued until 2017 as Hayward & Warwick Limited at 85 Princess Street.
16. Saint John Jewish Historical Museum, 91 Leinster Street
Charles H. Peters, the father of William Peters, a former resident of 218 King Street East, had this impressive stone dwelling built over a three year period beginning in 1897. When finished, it was  reputed to be the best finished home in the city. In 1965 it was converted to a funeral home. In 2008 the building became the new home for the Congregation Shaarei Zekek and the Saint John Jewish Historical Museum. A collection of religious and secular artefacts is housed and displayed here,  including the building's rare Tiffany lamp. Admission charged.
17. Leinster Street Baptist Church, 42 Leinster Street
The former Leinster Street Baptist Church was built in 1878 on a design by Boston architect John Stevens and Son. It had seating for 700 people and cost $30,000 to build. It amalgamated with other Baptist Churches to become the Cornerstone Baptist Church. In 2018 the former Church was converted into a wedding banquet hall.
WENTWORTH STREET
This street is named for Sir John Wentworth. He was the second Governor of Nova Scotia after having served as the last Royal Governor of New Hampshire before the American Revolution.
18. Troop House, 96 Wentworth Street
In a city noted for its many ship owners and merchants, Jacob Valentine Troop was most renowned. He parlayed his fortunes from a 60-ton wooden schooner to a shipping fleet whose flag was recognized around the world. The first home on this site was destroyed in the Great Fire of 1877. This house was completed in 1878. Jacob died in 1881 and his widow lived in the house until her death in 1906. Henry A. Doherty bought the home in 1908, thus the name "Doherty" on the frosted glass front doors.
19. Smith House, 99 Wentworth Street
This solid Second Empire style was designed by New York architects, C.B. Croft and F.T. Camp. It was constructed in 1878 for A. Chipman Smith, a druggist whose shop was located in the City Market. The newspaper of the day praised this "handsome French cottage" for its beauty and convenience.
ORANGE STREET
Orange Street is named for Frederick, Duke of Orange, who was a Commander of the Hanoverian troops during the Napoleonic War. He was killed at the Battle of Waterloo on June 18, 1815. Looking down Wentworth Street from Orange, one can see by the commanding view of the harbour why ship owners built homes along Orange Street. In the past, this vantage point provided them with an opportunity to keep a watchful eye on their vessels. Today, this view is obscured by the large potash shed, a vital part of Saint John's current commercial port activity.
20. 75, 77, 79 Orange Street
These massive Italianate row houses were built in 1880 for three prominent Saint John men. Drury Ward Chipman, the Registrar of Deeds, occupied 75 Orange; Frederick Barker, a barrister, number 77; and George MacLeod, a ship owner and lumber merchant, number 79. Of note are the dormer windows, perched above the main body of the house giving the occupants an unobstructed view of the harbour and the Bay of Fundy. The similar but unique stone carvings surrounding each doorway are amongst the best in the city.
21. Bent House, 78 Orange Street
Like others on Orange Street, Gilbert Bent had an interest in oceangoing commerce. He was the owner of G. Bent and Sons, a food wholesale firm with offices at Market Slip. He too wished to keep an eye on shipping movements and had this Second Empire sandstone home built in 1879. Note the initial of the family name carved in stone above the doorway.
22. Howard D. Troop House, 70 Orange Street
Although Jacob Troop had two sons, only Howard D. became involved in the family business. He  assumed control of Troop and Son upon his father's death and successfully lead the company through difficult years in the 1880's and 1890's. In 1881 alone, the company lost 41 vessels at sea. Despite these hard times the firm remained the largest Canadian fleet of its day and Howard was the first Canadian ship owner to acquire an iron vessel. He died in 1912 and with him, his firm. This house was constructed for Howard in 1878 after the Great Fire of 1877 had destroyed the Troop family home on Wentworth Street. The Troop initials can still be seen in the etched glass on the inner front doors.
23. MacLeod House, 71 Orange Street
One can see even today that George MacLeod had some particularly prosperous years in the late 1870's. No sooner had the shipping and lumber tycoon moved into 79 Orange, that he purchased a lot from the Troop family and commissioned architects, D.E. Dunham and W. P. Clarke, to design this imposing sandstone structure at 71 Orange. Note the fascinating stone carvings above the windows.
24. Haley House, 50 Orange Street
This home was built around 1913 for Robert G. Haley of Haley Brothers & Co., Builders and Contractors. The house was the rectory of Trinity Church on Germain Street described in the "Loyalist Trail." It is now privately owned. Note the curved glass windows in the turret of the house.
MECKLENBURG STREET
This Street is named for Charlotte of Mecklenburg-Strelitz (a tiny German State), consort of King George III at the time the Loyalists arrived in Saint John.
25. 37 Mecklenburg Street
Built for the Eaton family about 1880, this home was fairly typical of Second Empire buildings in the post-fire period. This one-and-a-half storey building has double bay windows, capped by triple-paned bay dormers, and still retains its slate roof shingles.
26. Caverhill Hall, 134 Sydney Street
Caverhill Hall was built for ex-Mayor Simeon Jones, a brewer and banker. The name came from his mother Jane Elizabeth Caverhill. Simeon bought the plans from Montreal architect John J. Brown and awarded the contract to E.J. Brass, contractor, and Michal Flood, mason, in 1879. The house was finished in early 1884. In 1901 the Duke and Duchess of Cornwall and York, later King George V and Queen Mary, used Cavehill Hall as their residence during a Vice-Regal visit. Simeon's son, Captain Rae Jones, was the first Saint John man killed in the First World War.
27. Thomson House, 2 Mecklenburg Street
This imposing home was built in the 1890's for another Saint John ship owner, Robert Thomson, of William Thomson and Company. Thomson was also the Imperial German Consul at the time. Note the ornately carved door and entranceway and the terra cotta family crest on the side of the building with the Latin motto, loosely translated, "Patience Conquers." Beautiful stained glass windows can also be seen, particularly at night.
28. Queen Square
Queen Square was once one of the most fashionable districts in the city. The homes were built by wealthy citizens following the Great Fire of 1877. The Square itself was laid out in 1783 by Paul Bedell and like King's Square, is in the shape of an 'X'. The monument of Samuel de Champlain was erected to mark the 300th anniversary of his naming the Saint John River. On Sundays between May and October an open air farmers market can be found at Queen Square, between 9:00 am and 2:00 pm.
29. Rankin House, 210 – 212 Germain Street
In 19th century Saint John, it was not uncommon for families to build businesses or homes together. This semi-detached structure was built in the early 1880s for the Rankin Brothers of the Rankin Biscuit Co. Note the intricate doors and railing work, as well as the stone gargoyles at the left and right ends of the cornice. In addition to being decorative, these gargoyles drain water from the building's roof through their open mouths.
30. Carleton House, 223 Germain Street
This Second Empire style home was built in 1888 for Sir Samuel Leonard Tilley during his tenure as Lieutenant-Governor of New Brunswick. The building was fondly named "Carleton House," because Tilley's strongest source of electoral support came from Carleton or Saint John West. It was designed by prominent Saint John architect H.H. Mott. Folklore says an attractive dining room was added to the rear of the house for the Tilleys to entertain Canada's Prime Minister, Sir John A. and Lady MacDonald. Tilley was a Father of Confederation (see his statue in King's Square).
31. Bullock House, 179, 183, 185 & 187 Germain Street
179 Germain Street was built as a family home in 1879 for Joseph Bullock, founder of the Eastern Oil Company and New Brunswick's first oil magnate. Starting as a kerosene supplier, Bullock parlayed his fortunes to a point where in 1898 Eastern Oil amalgamated with Imperial Oil. With business prospering, Bullock built 183-187 Germain for himself and his two sons. Number 183 was occupied by his son Thomas, who was Mayor of Saint John from 1908 to 1910; 185 was occupied by Bullock; and 187 was occupied by his son John. Note the elaborate door knobs and plates at 179 Germain.
32. Power's Funeral Home, 79 Princess Street
New Brunswick's first professional, full-time undertaker built this building in 1878 and used it as both his residence and "warerooms." Mark Needham Powers operated his undertaking business in the city from 1846 until his death in 1892. The company had the first glass hearse in Saint John and it could regularly be seen going through the carriageway to and from the stables which were behind the shop.
33. Hayward & Warwick, 85 Princess Street
Hayward & Warwick began in 1855 as retailers of china and earthenware. They relocated to this location in December 1877 and were a nationally recognized retailer of fine china, housewares and giftware. In 2013 the fifth-generation Hayward family sold the business to a long-time employee. In 2017 Hayward & Warwick closed its doors for good.
34. White House, 71 Sydney Street
Lt. Colonel Dr. Walter W. White, who commanded the N.B. Regiment of Artillery, was a successful surgeon, soldier and politician. This was his home from the time of its construction in 1891 until his death at age 89 in 1952. White was mayor of the city from 1902 to 1906 and again from 1930 to 1935. He married Helen Troop, the daughter of Howard D. Troop whose home is mentioned in this Stroll. Note the glass conservatory, etched glass in the front door and the terra cotta brick insets in the chimney on Princess Street.