Approximately 1.5 hours
1. Market Square & New Brunswick Museum
Market Square derives its name from its early function as a market place for the city. The Great Fire of 1877 destroyed all the buildings of Market Square, but soon afterwards, numerous warehouses were constructed along both sides of Market Slip. Today, seven of these warehouse facades have been incorporated into the Market Square complex, an ambitious and exciting development which includes shops, restaurants, offices, a hotel, apartments, a trade and convention centre, Canada's first public library and the New Brunswick Museum Exhibition Centre.
2. Market Slip at Market Square
Adjacent to Market Square is Market Slip, celebrated as the site of the first Loyalist landing on May 18, 1783. At one time there was a slip of water that extended approximately to the bronze moose located on the Market Square Boardwalk. The Labour Day Bell, marking a ten-hour work day, was located at the head of the slip from 1849 to 1923.
3. Barbour's General Store, Saint Andrews Bicentennial Green
Once located at a rural crossroads in Sheffield, 80 miles upriver from the city, the store was completely restored in 1967 by the G.E. Barbour Company Limited. Brought downriver on a barge, it now stands near the site where the company first went into business. Saint Andrews Society Bicentennial Green was established by the Society to recognize its bicentennial in 1998 and is named in honour of distinguished member Wallace P. MacMurray.
4. McMillan Press, 98 Prince William Street
Until its sale in the late 1990's McMillan Press was the oldest printing firm in Saint John. The print house was established in 1822, the original building was next to Jardine's Alley, across the street from its present location. Despite numerous fires which threatened or destroyed the firm's premises,  McMillan's thrived. This building opened for business in June 1878 on a design by prominent New York architects G.B. Croft and F.T. Camp.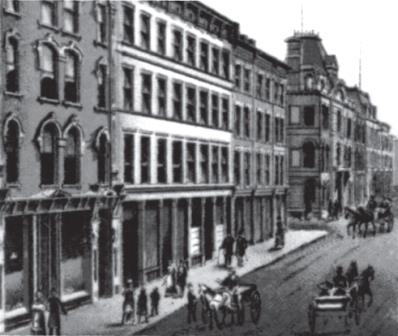 5. Chubb's Corner, 111 Prince William Street
This building was designed by noted Saint John architects McKean and Fairweather. The carved stone heads above the third floor windows evoked the following comment from the press at that time: "We trust no more of our buildings will be adorned by such buffoonery from his hands." For many years stocks, bonds and other securities were sold here at public auction. The Prince William Street National Historic Streetscapes Marker is also located at this address. While at this corner, walk down to One Princess Street to look at the intricate carvings on the Furlong Building.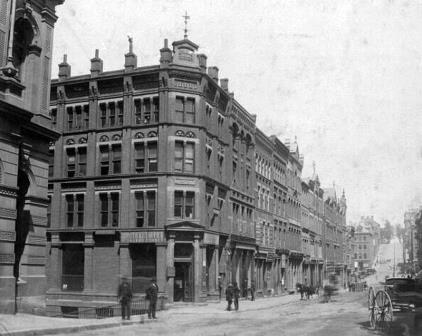 6. Former Post Office, 113 Prince William Street
This Second Empire building was designed by government architect Matthew Stead to replace a post office just completed before the Great Fire of 1877. The original cost was $120,000. Note the three figures carved in the keystones above the entrance and the ground floor windows.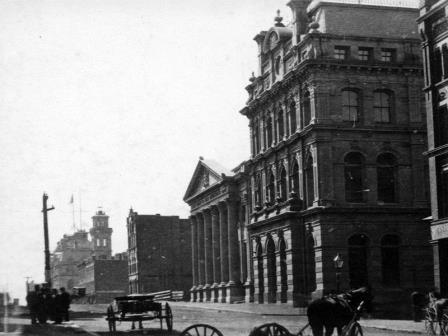 7. Old City Hall, 116 Prince William Street
For over 100 years, between 1785 and 1877, Saint John Common Council met in buildings which were built for other uses: a church meeting hall, a market, a court house, and a banking house. This building was the first structure designed specifically as City Hall. It was designed by McKean and Fairweather and built immediately after the Great Fire of 1877 at a cost of $35,500. When its foundations were being prepared, workmen uncovered the 1839 cornerstone of the building which formerly housed city offices and which was destroyed in the Great Fire of 1877. The contents, which represented artefacts of 1839, were deposited along with artefacts of 1877 in the new building's cornerstone.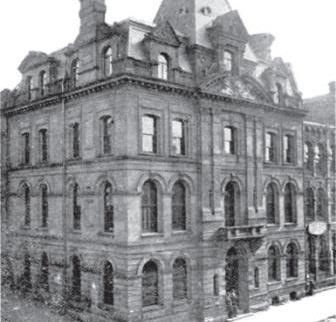 8. Palatine Building, 124 Prince William Street
This classic Second Empire structure was designed by Halifax architects Dumaresq and Dewar for the Bank of Nova Scotia. Following its takeover of the Bank of New Brunswick in 1913, the Bank of Nova Scotia moved across the street, and the building was acquired by the Palatine Insurance Company. The building is richly adorned with floral and fruit motifs. Note the carved stone face of the man spitting coins, located at the top right of the entranceway.
9. Bank Of New Brunswick, 119 – 125 Prince William Street
The Bank of New Brunswick came into being in Saint John in 1820 as Canada's first chartered bank. It dominated the provincial business scene for 93 years, during which time this fine edifice was built. In 1913, the bank was forced to decide between greatly enlarging its capital to compete against other expanding banks or to amalgamate with another Maritime bank. It chose the latter, and was absorbed by the Bank of Nova Scotia, which took over this property and occupied it until 1977.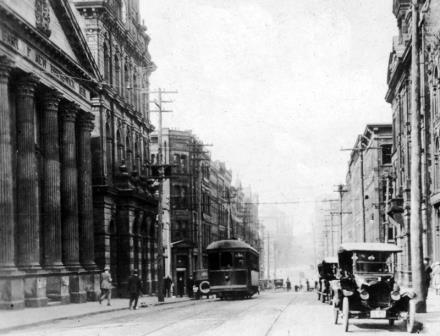 10. Seamen's Mission, 152 Prince William Street
The Seamen's Mission was founded in 1897 in part by Herbert C. Tilley, son of Sir Samuel Leonard Tilley, former Lieutenant-Governor of New Brunswick and a Father of Confederation. Its purpose was to provide lodging, meals and recreation to sailors from around the world. Originally located on Water Street, the Mission moved into the present building after its completion in 1908. It was designed by architect G. Ernest Fairweather.
11. The Troop Building, 162 Prince William Street
Erected in 1883, this building housed the offices of the renowned Troop Shipping Line which was established in the 1840s. A plaque on the building offers a short history of the company.
12. Stoneleigh Terrace, 262 - 268 Prince William Street
This row of Queen Anne Revival frame houses was built in 1895. They had a view of the harbour until the First World War, when a massive grain elevator was built across the street. The Canadian National Railway elevator was demolished in 1989.
13. The Trinity at St Patrick's Square
At the foot of Prince William Street stands an iron lamp known as "The Three Sisters." It has guided mariners into the harbour since 1848. In 1967, the lamps were restored as a Canadian Centennial project through the joint efforts of the stevedoring firm of H.S. Gregory and Sons Ltd. and Saint John Iron Works Ltd. They were replaced in 1997. The Celtic Cross standing near the lamps is a copy of a larger one on Partridge Island which you can see at the harbour's mouth. The cross was erected in 1927 to commemorate the 1,200 Irish Immigrants and local citizens, who died in 1847 of typhus on Partridge Island and in the City, and to Dr. James P. Collins, who died on the island treating those sick.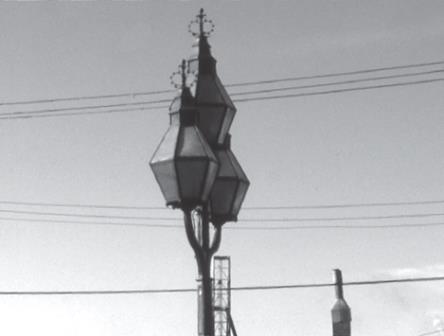 GERMAIN STREET
This street was named for George Sackville, Lord George Germain from 1770-1782, who died in 1785 just as the streets of the City were being named. He was a soldier and statesman in England and  served a term as Secretary of State in England. Following the Great Fire of 1877, Saint John saw the erection of many fine brick houses to replace those which had been destroyed. The wealthiest of these boasted many fine features: mahogany from Honduras, marble mantelpieces from Italy, and intricately carved wood mantels, newel posts and doors. Some of the best examples of post-1877 residential architecture are found on Germain, considered one of the city's most elegant older residential streets.
14. Mahogany Manor, 220 Germain Street
This wood two-storey Queen Anne Revival residence, one of the few wooden residences on this street, was constructed in 1905 by contractor Michael Mooney for William Cross, who became manager of the wholesale grocery firm Hall and Fairweather in 1902 upon the death of the founders. Later the business was converted into an insurance and real estate company. Mahogany Manor is now a Bed & Breakfast.
15. Rankin House, 210 -212 Germain Street
Built in the 1880's, this double brick building illustrates a departure from pre-fire practice, in the erection of double or multiple dwellings. Note the intricate doors and railing work, as well as the stone gargoyles at the left and right ends of the cornice. In addition to being decorative, these gargoyles drain water from the buildings' roof through the open mouths of the figures. For a few decades long-time resident, retired school teacher Emma McCready, played Lady La Tour on special occasions. She singularly kept alive the story of Lady La Tour and her gallant defence of her husbands' fur-trading post.
16. McMillan House, 206 Germain Street
This restrained Second Empire style stone dwelling was built in 1864 for J. McMillan, stationer, printer and book-seller. The plaque on the building marks the site of Saint John's first frame building, which was used as Trinity Church and for the city's first council meetings.
17. Carleton House, 223 Germain Street
This Second Empire style home was built in 1888 for Sir Samuel Leonard Tilley, during his tenure as Lieutenant-Governor of New Brunswick. Tilley was a Father of Confederation (see his statue in King's Square). Fernhill Cemetery on Westmorland Road in East Saint John has the graves of two Canadian Fathers of Confederation - the only burial place in Canada to have two fathers resting - Sir Samuel Leonard Tilley, who lived in this house, and the Honourable William Henry Steeves, a lumberman with a business in Saint John. Since 1927 the graves of these two men have been recognized on Dominion Day, now called Canada Day, July 1st.
18. Robertson House, 211 Germain Street
One of six similar houses built in the 1880's, this unit is distinguished from its neighbours by its intricate door-handle and plate. The original owner was James Robertson, partner in Saint John's original department store, Manchester, Robertson, Allison – M.R.A. – which stood on the site of today's Brunswick Square.
19. McArthur Apartments, 197 Germain Street
The McArthur Apartments were constructed in 1920 for George McArthur, contractor and local champion of the nine-hour work day. The seven-storey brick structure is the city's first high-rise apartment building. Its entrance is all that remains of Dr. William Bayard's residence, a grand house and office which was destroyed by fire in 1918.
20. Church of St. Andrew and St. David, 164 Germain Street St.
St. Andrew's Presbyterian Church was built in 1878-79 to replace the Kirk destroyed in the 1877 fire. It was designed by Toronto architects Langley and Burke and is one of the city's largest post-fire churches. In 1961, the congregation of St. David's united with St. Andrew's to become the Church of St. Andrew and St. David. Open for visitors in July and August.
21. The Union Club, 123 Germain Street
The Union Club dates to May 1884, when it was the brainchild of a group of businessmen looking for a place to gather for companionship and the exchange of ideas. The building was constructed to plans by architect J.T.C. McKean. Until 1936, only men were permitted as members. From its opening, the Union Club has welcomed the most prominent visitors to Saint John.